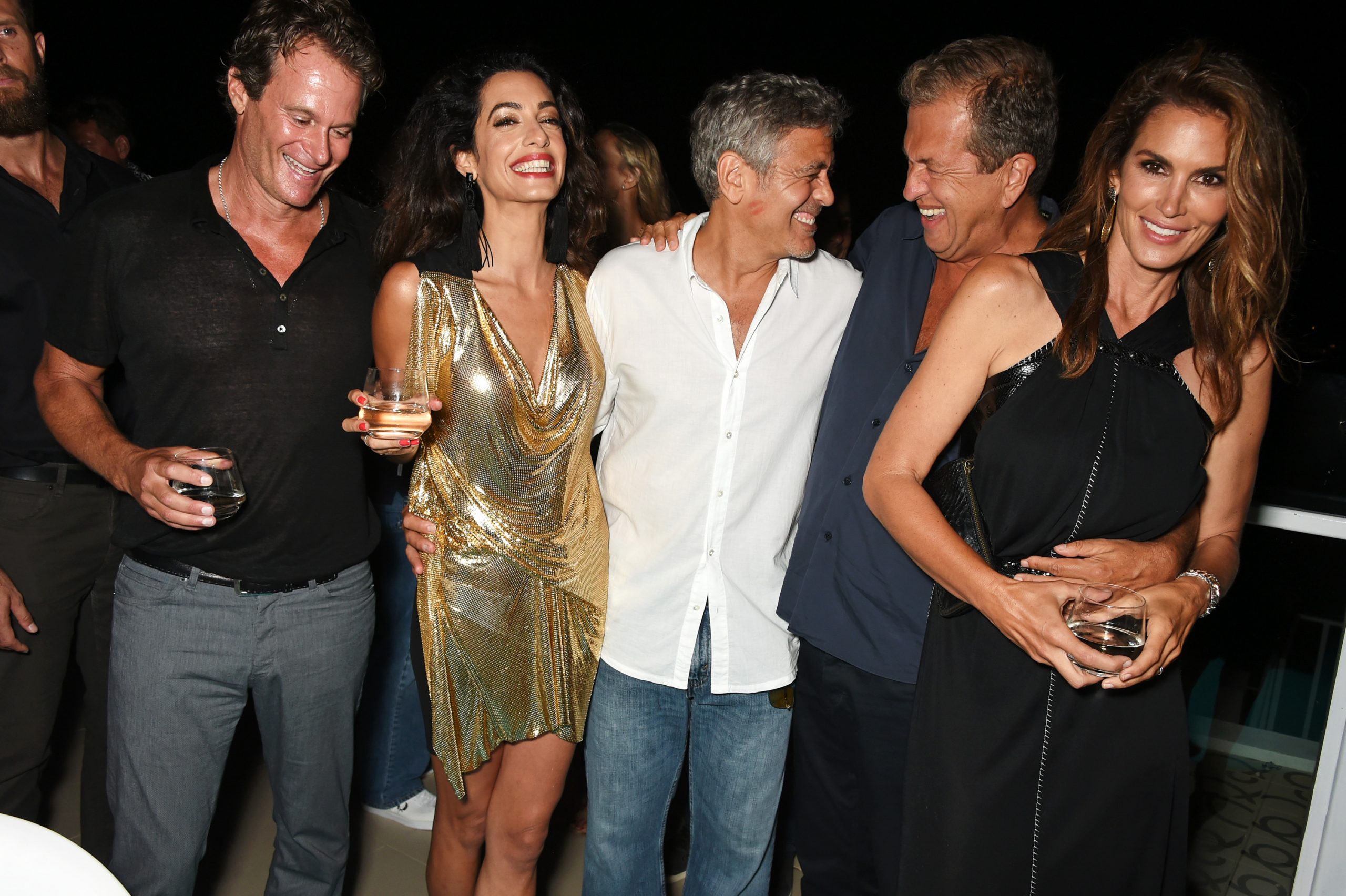 ldman, Cindy Crawford, Amal Clooney
ldman, Cindy Crawford, Amal Clooney,
James Blunt & Sophia Wellesley, Charlotte Tilbury, Mario Testino, Sam McKnight, Taio Cruz, Karmen Pedaru, Marpessa Hennik
The guests enjoyed cocktails featuring the Casamigos brand:
'Casamigos Espresso'
'Unexpected Casamigos'
Casamigos Reposado on the Rocks
Chefs prepared accompaniments, showing their culinary skills using the elegant tequila…
* Grill loin rib marinated with tequila Casamigos Añejo   
* Foie Mid-cuit over brioche and jelly tequila Casamigos Reposado
* Cube Lamb confit with tequila Casamigos Añejo, cinnamon and yuzu sauce
* Hamachi ceviche with lemongrass and white Tequila Casamigos · Passion fruit gazpacho with white tequila Casamigos foam
* Osmosis cherry rested white tequila Casamigos style, covered with sanguine orange snow
About Casamigos Tequila…
Brought To You By Those Who Drink It. Privately owned by George Clooney and longtime friend, bar and restaurant mogul Rande Gerber, and Discovery Land Company CEO & founder Michael Meldman, tequila-filled nights with friends is how Casamigos was born. Launched in the UK in March 2015, these small batch, ultra-premium tequilas are made from the finest hand-selected 100% Blue Weber agaves grown in the rich red clay soil and cool climate of Mexico's Jalisco Highlands for a minimum of seven years. Casamigos Blanco is crisp and clear, with subtle hints of vanilla and a smooth finish, Casamigos Reposado is smooth and clean with hints of caramel. Casamigos Añejo is aged 14 months and has a beautifully pure and refined complex aroma, with soft caramel and vanilla notes.
Casamigos is available in the United States, Bahamas, Canada, Hong Kong, and the UK, and has garnered the highest accolades from the spirit industry's most well respected authority figures. Awards and ratings include the highest rated gold medals from Los Angeles International Spirits Competition, the San Francisco World Spirits Competition, The Beverage Testing Institute, The New York World Wine & Spirits Competition, The Spirits of Mexico Tasting Competition and many more. Additionally, Casamigos was rated "Excellent, Highly Recommend" by The Ultimate Spirits Challenge, received the coveted 5 star rating from BevX Magazine, "A perfect tequila," A rating, from Good Spirit News, named "Best Tequila in the World" by Men's Journal magazine and Oprah Winfrey lists Casamigos as "The Smoothest, The Best."
In the UK the brand can be found at top establishments like Nobu, Zuma, Groucho Club, Soho House, 5 Hertford St, Chiltern Firehouse and the Maybourne Group, to name but a few.
Casamigos Tequila is available to purchase at Selfridges and online at www.selfridges.com from £62.99
About Ushuaïa Ibiza Beach Hotel…
Ushuaïa Ibiza Beach Hotel is a luxurious 417-room hotel comprised of two buildings: The Ushuaïa Club, featuring an amazing poolside stage, and The Ushuaïa Tower, offering breathtaking views of the Mediterranean. Ushuaïa is dedicated to providing the best outdoor entertainment venue coupled with a modern, cutting-edge hotel experience, designed for the discerning traveller seeking the fun and entertainment associated with Ibiza.
For more information, visit www.ushuaiabeachhotel.com.
About Bedrinks…
Bedrinks is a new brand of Zumos Naturales S.A., a company with over 45 years of history on the island of Ibiza that began by producing shakes, juices and soft drinks, and currently distributes some of the most important national and international beverage brands.
Casamigos is distributed exclusively in Spain by Bedrinks.
Corinne Tuddenham-Trett
@ladycdtt
Did you enjoy this article and find it helpful? Why not share it with your social media network below?